Now for one of our favorite posts in our 2016 Cool Mom Tech Holiday Tech Gift Guide, we're sharing the coolest tech stocking stuffers that won't cost you a fortune. Okay so some are a little spendier than others but let's be honest, often, the stocking stuffers can even more fun than what's under the tree. From practical to fun to a little silly, check out these tech stocking stuffers and hurry, quick! Santa's going to need them before you know it.
Don't miss our big CMT Holiday Gift Guide giveaway! Details below.
Spoiler alert: You can win an iPad. 
CMP is an rstyle and Amazon affiliate. At the time of posting, all prices are accurate with delivery dates available before Xmas.
iClever Kids Headphones with Reindeer Horns
Don't let the pointy horns make you nervous; they pop right out after Christmas. Then kids just have some wintry looking, volume-limiting, bendy, kid-friendly headphones at a great price. ($9.99, Amazon)
Plush Touchscreen Gloves
A must have for anyone whose ever risked frostbite because responding to that text that very second was just too important!  ($10, Urban Outfitters plus limited time 40% discount)
Anchor 6.5-foot Charging Cable
Not only is an extra long lightning cable more useful than you can imagine, but this one comes with a geometric anchor weight so it won't snake its way off a desk or nightstand. Which is more annoying than you can imagine. ($34.99, Native Union)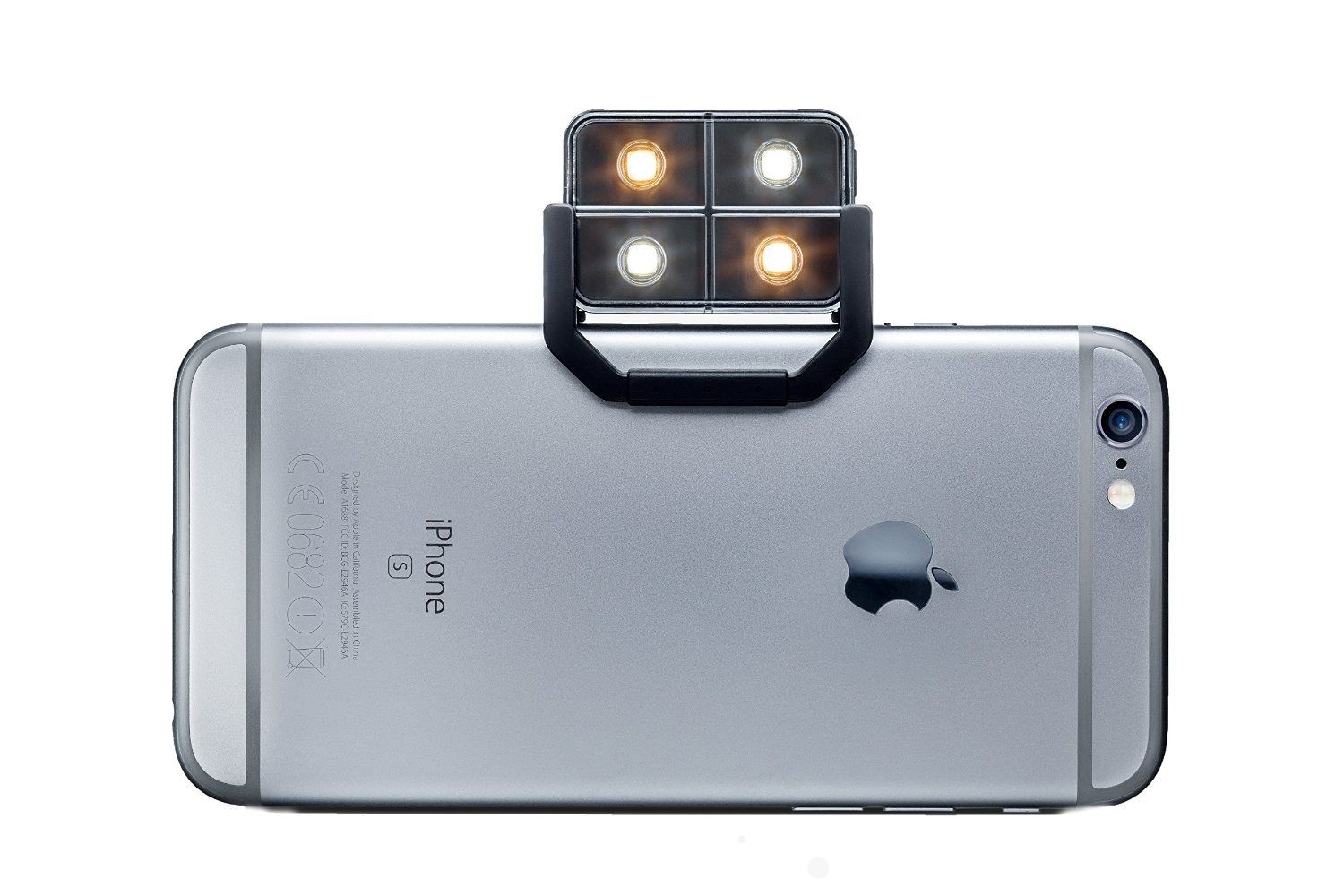 iBlazer 2 Wireless Smartphone Selfie Light
This genius, compact little flash is app controlled with multiple temperatures, ready for your late-night close-up or Facebook life updates. ($49.95 on sale, Amazon)
Related: Stylish holiday tech gifts for the fashionista
Cursor Temporary Tattoos 
Allow us to point out a cool tech stocking stuffer for your favorite computer addict. (Ha.) ($5/set of 2, Tattly)
Tilemate Smart Tracker
Like the original Tile, only with a handy hole for attaching it to your key ring. No more lost keys!  ($24.99 each with discounts for a 4-pack, Amazon)
Glow Riders LED bike wheel lights
Ooh, we love gifts that are both practical and this cool. Lots of colors too. ($16.98, Amazon)
Fire TV Stick with Alexa Voice Remote
Like the stocking stuffer that ends up being the favorite gift, this brand new, updated Fire Stick gives you plenty of indoor entertainment options when the whether outside is frightful. ($39.99, Amazon)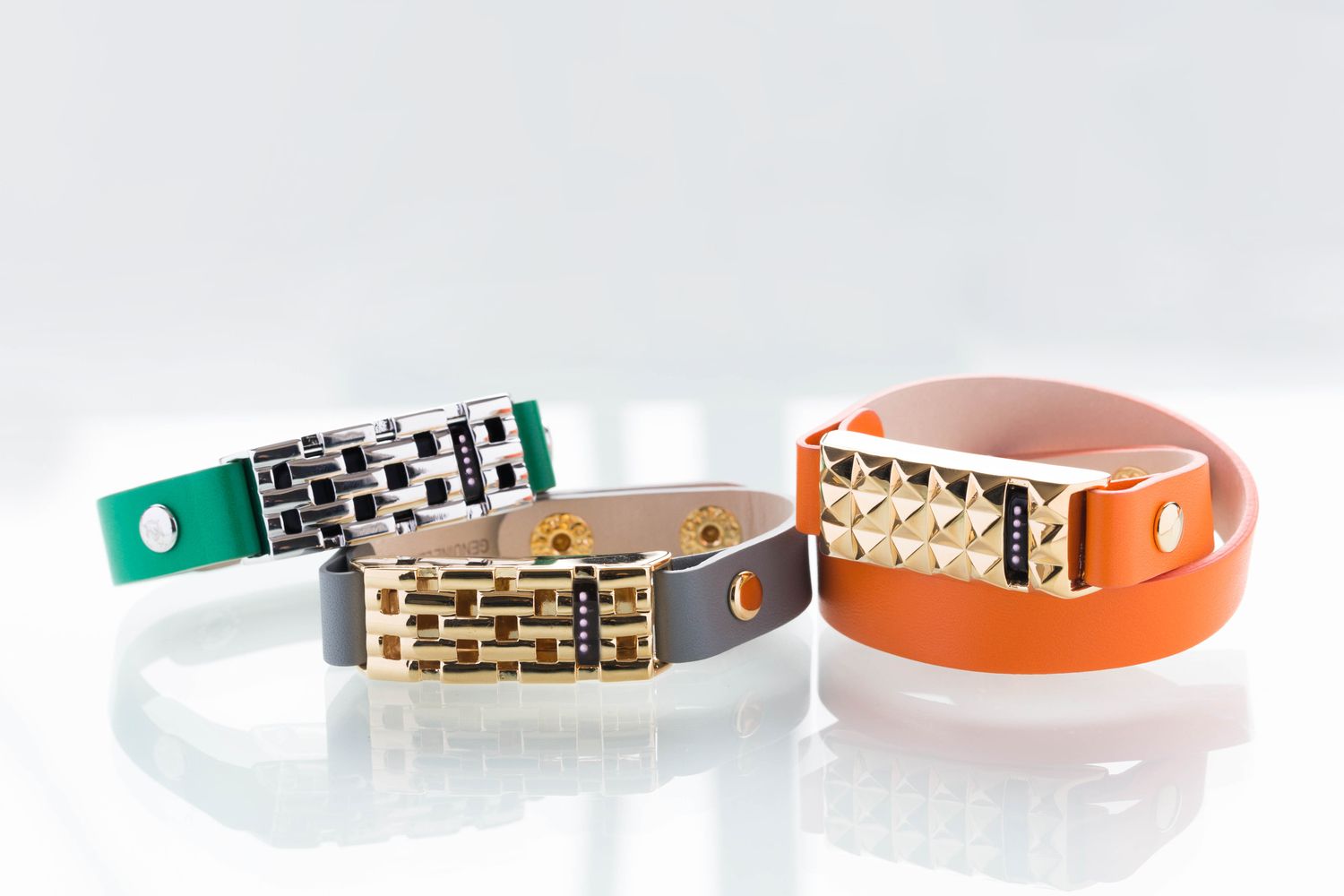 Stud Wrap Leather Bracelet for Fitbit Flex
Yeah, I wouldn't kick this out of my stocking either. ($78, Bezels and Bytes)
WHOOSH Screen Shine
Never leave home without it. Especially if you have kids with sticky fingers. ($6.75 pack, Amazon)
Santa Robot Portable Speaker
Grandma Got Run Over by a Reindeer will never have sounded better. Or, wait… scratch that. ($29.99, Nordstrom)
Kikkerland Retro Style Pen and Stylus
Nifty little accessory in cool colors makes this a smart tech stocking stuffer. ($7.95, Barnes & Noble)
Gorillapod Mobile
Whatever your phone — yes, even the big ol' iPhone 7 plus — whatever your case, this brilliant mobile grip is a photographer fave at a great price. ($15, Photojojo)
Related: 15 custom photo gifts to make friends and family swoon
Polaroid Cube
While there's certainly the brand new Polaroid Cube + with WiFi, that's going to cost you $100 or more. For a deal, get the original one-inch lifestyle action camera and you still get so much of the fun that everyone fell in love with when it was released a couple years back. ($59 on sale, Amazon)
Kidecals Keyboard Decals
From rainbows and ombre gradients to unicorns, team logos or the American flag, these cool decals help freshen up your keyboard, and make a hand-me-down laptop feel a little less handed down. ($, Kidecals.com)
UNICEF Kid Power Band, Star Wars: Force for Change Limited Edition
Fun, basic activity monitor for kids that uses the power of the force. Or you know, their own bodies. Whichever color you choose, Target will donate $10 of your purchase to the US Fund for UNICEF; plus the more your kids move, they earn Kid Power Points converted to funding to help even more hungry children ($39.99, Target)
Vegan Leather Cord Wrap
We can never resist a good pun, especially in a cool tech stocking stuffer.  ($8, Anthropologie)
Star Wars Force Awakens portable power tube
Rey, Kylo Ren, BB-8 and the Dark Lord themselves. What a cool way to make sure your device never loses its Force when you're on the go. ($12.49+ on sale, mimoco)
Game of Phones
This hot new game made into our round up of the best family card games this year. Requires the deck, your own devices, and a few screen-obsessed people to play. Know anyone like that? ($20, Uncommon Goods)
iPhone Charger Sticker Faces
The cutest way ever to know whose charger is whose. Also, made by a company called Whooz. ($12.95, Uncommon Goods)
Etymotic EtyKids Safe Earbuds
Truly great sound at kid-safe levels, in black, pink or yellow. You can also get them with a cute free CD and book bundle if you're ordering for little kids. ($39, Amazon; $44-49 with mic)
Clashist Collab Leather Cord Tacos
Because if Ziggy Stardust or Steve Zissou can't keep your cords safe in your bag, who can? ($12 ea or 5/$40, This is Ground)
Moshi Car Charger Duo
For the competitive carpooler, the weekend warrior, or just kids who keep arguing over the USB charging ports from the back seat. ($24.95, Moshi)
Leather Tassel Keychain with USB Charger
Pretty and practical, just the combo we love. ($26, Urban Outfitters)
Moleskine Evernote Smart Notebook
Use Evernote's Page Camera app (iOS or Android) to capture your writing, scribbles or designs, then apply Smart Stickers to help make it all organized and searchable once it's digitized. Like magic. Plus it come with 3 months of Evernote Premium. (Large journal on sale for $10.48, Moleskine)
Kate Spade Portable Bluetooth Speaker
All glitzy, and dressed up for an intimate New Year's eve dance party that you can take to the roof. ($60, Nordstrom)
iTunes Gift Card
$15 = just enough for the Hamilton Mixtape. ($15+, Target, or find at local stores selling gift cards including CVS and Duane Reade)
Binge Watching Survival Kit
Okay so maybe it's not anything techy per se, but how could we resist? If you know someone with a Netflix queue longer than their holiday wish list (ahem — all of us?) then these 18 marathon essentials are the perfect stocking stuffer. Right down to the coin you can flip to decide whether you "watch one more" or just "go to bed." ($20, Pinch Provisions)
Whoo! The Cool Mom Tech Holiday Tech Guide Giveaway
We're so excited to give away a 32G iPad Air 2 (WiFi only) to one lucky winner! 
To enter for a chance to win:
1. Subscribe to Cool Mom Tech. If you're already a subscriber, leave us a comment telling us that you are. (Be sure to use the same email that you subscribed with so we can double-check. Don't worry, no one can see it but us.)
For additional entries:

1. Follow Cool Mom Tech on Twitter AND tweet a link to this post with the hashtag #CMTHoliday. Be sure to tweet something fun, like "I am LOVING this year's @coolmomtech #CMTHoliday guide LINK!" Hey, you can even share your favorite gift idea seen here. You can get up to 7 additional entries (one for every post in our tech gift guide).
2. Like Cool Mom Picks on Facebook AND share a link to this post on your feed. Make sure to send your link (or screenshot if it's a private update) to info@coolmompicks.com with CMT CONTEST in the subject to be entered. You can get up to 7 additional entries (one for every post in our tech gift guide).
Contest ends at 11:59 pm PST on December 26, 2016. Void where prohibited. US only please, 18+, see our general contest and giveaway rules for other details. Good luck!
Visit all our holiday tech guide posts: 
* 12 of the coolest educational tech toys for kids
* 15 custom photo gifts to make your friends and family swoon
* 15 awesome travel tech gifts for the frequent flyer or weekend warrior
* 10 stylish holiday tech gifts for the fashionista
* 24 of the coolest geeky gifts for kids and teens to keep the holidays nerdy and bright
* 28 seriously cool tech stocking stuffers for everyone on your list
* 22 fantastic holiday tech deals to reward you last-minute shoppers