With the big breaking news this week about the controversial purchase and privatization of Twitter by Elon Musk, a lot of users are talking about whether they'll consider deleting their Twitter account, for a variety of reasons. Some users are uncomfortable with so...
Trending right now. As in, this second.
Tech Tips & Tricks to Make Life (Way) Easier
Recently, Meta announced it would be launching new parental safety controls for teens in the form of tools and resources for both the Instagram social media app and their Meta Quest VR gaming headsets. The goal is to help parents better manage what our teens are...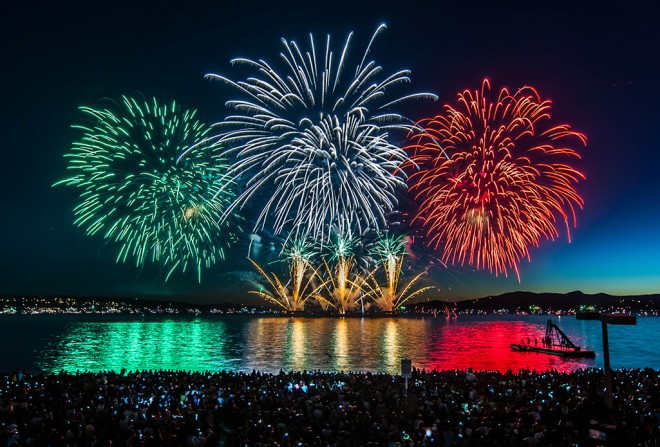 Fireworks are at the top of nearly everybody's list of favorite Fourth of July memories, but capturing the magic in fireworks photos can be extremely tricky. So we scoured our favorite photography and tech resources for great photo tips for fireworks, so that the...
It took me longer than most people to get into audiobooks. Even while friends raved about flying through so many books on their commutes or while sitting in carpool lines, I had tried a few novels on Audible -- good ones! -- and just couldn't get through them. I...
Even More Coolness. Enjoy!
If you're getting ready for the Super Bow (whoa) this Sunday, and plan on having company to make it more fun, we've got 7 apps for your Super Bowl party that you'll want to download stat, from party planning help to food and drink delivery, to real-time social sports...
I'm grateful for any tech that makes bedtime easier, so I was excited to discover Netflix Jr.'s brand new Bedtime Stories podcast -- and I figured a whole lot of parents might be too. The podcast features some of my kids' favorite characters from Netflix Kids -- like...
Who else is shopping for Valentine's gifts for geeks this year? My own spouse takes his, ahem, calling as a gamer very seriously, so no red roses for him. Instead I try to get creative and find gifts that incorporates his love of all things gaming, sci-fi, tech, and...
Seeing as how the work-from-home life is here to stay for the foreseeable future -- for better or for worse -- I've been digging into our past posts for ways to improve my own home office space. (Turns out, our writers are extremely helpful!) One of the items I've...
Lately, a lot of readers have been asking us about apps that let you check out free library books. Or, free e-books to be technical. So here's the info on a favorite of ours, the hoopla digital app. While I love the feeling of being surrounded by stacks and stacks of...
So let's talk about my absolute obsession with HappyLights, more technically known as light therapy lamps. I've always kind of dreaded the shorter daylight hours of the winter, knowing that Seasonal Affective Disorder tends to hit me hard. I get tired, cranky (sorry,...
I'm excited to kick off the year by finding some easy, effective ways to recycle or donate those old tech gadgets that we all have lying around. Not just for you, but for me too! I know not to chuck my trusty old iPhone into the trash after upgrading to a newer model...
Even in pre-Covid days, I always hated sitting in a doctor's waiting room just thinking about the "bonus" rotovirus we were probably contracting on top of the ear infection we were there to treat. That's a big reason I am so excited about the TytoCare Medical Exam...
With the new year here, it's a good time for a refresher on how to make strong passwords and help keep them safe. With phishing on the rise, ever-present social media hacks, and general security breaches and unsavory shenanigans, it's just a good idea, and one of our...
For so many of us, the new year is about fresh starts. That's why around here, so many of us use January as time to cross off what we can from all of those never-ending tech to-do lists. These are the kinds of tech to-dos we often put off, not necessarily because they...
Every year, we think it's fascinating to look back and see the top posts we wrote that captured our readers' interests and imagination. Some of the favorites were just fun (hey, trendy halloween costume!) while most this year were really helpful. And hey, we're...
For those of you who also grew up with Ezra Jack Keats's magical The Snowy Day, you can imagine my thrill at discovering The Snowy Day has become a wonderful opera now available to stream on the the Houston Grand Opera website Even better, we can all watch it right...