For the last few years on Cool Mom Picks, we've ended the year with our Editors' Picks for best of the year. We're excited to do the same on Cool Mom Tech this year, starting with the best video games that the whole family will love.
ABBA You Can Dance (for Wii)
Kristen: We're all singing "Waterloo" around our house these days thanks to ABBA You Can Dance, which has kept us all entertained. Even the baby. And it's a great way to work off those Christmas calories. From dancing. And laughing.
Discovery Bay's Duo Plink, Duo Pop (for iPad)
Kristen: With my kids grabbing at and fighting over my iPad whenever they get the chance, I love how the Discovery Bay games like Duo Plink and Duo Pop allow everyone to play together, collaboratively. It's like board games are finally going digital. Even better, the ones from Discovery Bay are educational and fun–always a
fantastic combination.
Sesame Street's Once Upon a Monster (for Xbox Kinect)
Liz: When you're Sesame Street, and you're developing a video game for toddlers and preschoolers–already a controversial market for gaming–you'd better do it right. And boy, they did. This game-slash-storybook can be enjoyed alone (even by a 3 year-old) or collaboratively, and feature monsters both new and familiar. The settings and overall tone is just magical. And the best part is that a child can actually navigate through it fairly easily, which isn't always the case with Kinect games.
Just Dance 3 (for Wii, XBox Kinect, Playstation Move)
Liz: Okay, so we're biased towards dance games as a great family-friendly, active indoor activity. But seriously, you have not lived until you've seen your four year-old imitate a mermaid in a pas de deux with a deep sea diver to Somethin'
Stupid; or embarrassed yourself reprising some of your own (bad) 80's moves while singing along with Bananarama on Venus. Bonus: I finally know the lyrics to Taio's Dynamite.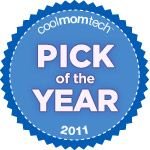 More 2011 Editors' Tech Picks:
Editors' Best Tech: Coolest Productivity Tools
Editors' Best Tech: Coolest Shopping Sites and Apps
Editors' Best Tech: Coolest Grade School Apps
Editors' Best Tech: Coolest Apps for Tweens and Big Kids
Editors' Best Tech: Coolest Preschool Apps
Editors' Best Tech: Coolest Kids' Gadgets
Editors' Best Tech: Coolest Photo Apps and Services
Editors' Best Tech: The Coolest Websites of 2011
Editors' Best Tech: Coolest Techcessories
Editors' Best Tech: Coolest Gadget Cases