If you're like me, you probably have taken upwards of 2,000 photos of your kids, your house, your pet, and even your food in the last year alone. And like me, you're wondering what to do with your digital photos and hoping you can find a fun, creative way to get your favorite snapshots off your phone or those Facebook albums and out where everyone can see them, you're in luck.
With so many services and options now, we've put together some of of our favorite ways to use all those photos and Instagram shots you have no doubt accumulated. – Kate and Liz
1. PRINTING SERVICES
The easiest way to get them off your camera is the most obvious—print them. Why does that feel so hard to do? It might have a little something to do with the lack of photo developer shops, like in the old days of film. One of our favorite digital age solutions is the iPhone Photo Printer, which prints photos directly off your phone (iPhone or Android). So simple. The prints are smudge and tear proof, but they aren't cheap. It costs around $25 to print 12 pictures.
If it's Instagram prints you're wanting to make, check out Ink361 (at top). The prints are beautiful quality, ready for framing. And they start at about $1 each.
Another great option is Origrami (above). These prints look like little Polaroid pictures, but you don't have to wave them around to dry them out. They come from a company in Australia, and 36 prints to a deck run you around $21 US.
2. PHOTO BOOKS

Another popular option for saving pictures, especially for families, is to make a photo book. You don't get the texture of a real picture when you do this, but there are some amazing, beautiful options with truly archival quality that can make your photos a keepsake forever. And one of my favorite upsides? You can print as many copies as you want at one time, to keep copies for each of your kids so they don't have to fight over them when they're adults. If you're not sure where to start, check out our comparison of 11 amazing photo book options including Blurb books, above.
3. SLIDE SHOWS AND VIDEOS

A really fun way to show off those pictures is to create a video with them the new-fangled way. With apps and websites like Animoto  you can easily create a free 30-second video slideshow of your photos. You can add music and share directly with your friends. I love this idea for school plays or field trips, soccer games, birthdays or Christmas morning. It's a really fun way to share these memories with the people who shared them with you. Magisto is a terrific app for creating a slideshow of video segments rather than still photos. Our editor Kristen has some some great tips for getting the most of Magisto.
4.WALL-SIZE PHOTO PRINTS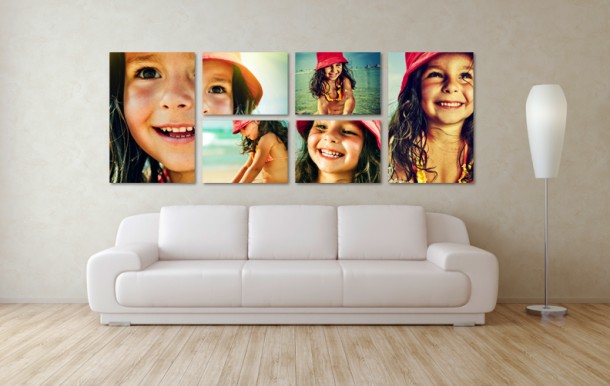 There are many, many options out there for printing photos on canvases. And since they're a little pricier than just getting a set of photo prints, I totally get that you want to be sure you're going to get something you're happy with. CanvasPop specializes in making canvases from your Instagram pictures, although you can print any pictures at all. Their prices start around $40 which is a very good deal. Picaboo is another favorite of ours, with a  wide range of surfaces to print on. You can print your photos on traditional canvases starting around $80, or solid panels starting at just $19.
5. PHOTO WRAPPING PAPER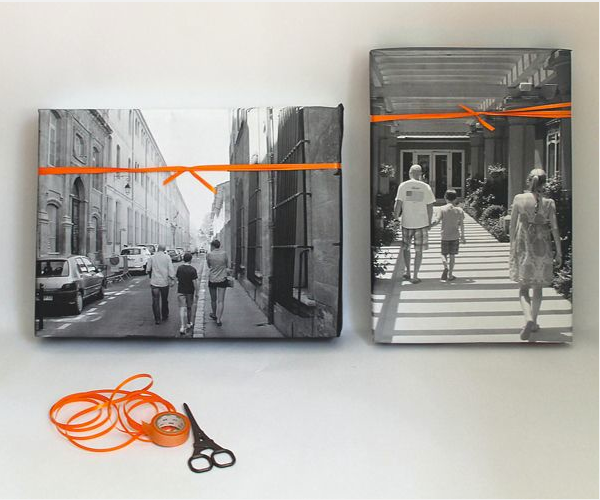 We love this idea we covered in our creative gift wrap ideas this holiday season: make gift wrap from your photos. (This, via Most Lovely Things.) Order an "engineering print" of your favorite pics; it's especially striking with these black and white pics, don't you think? A contrasting ribbon sets it off perfectly.
6. CUSTOM PHOTO CASES

There are so many services now for custom phone cases using your photos, photos on a phone case, from Tiny Prints to Case-Mate to  Casetagram which specifically works with your Instagram feed. But we're particularly taken with the latest offering from Uncommon, which lets you create custom phone charging case with your photos for iPhone 5/5S. Not just cute–extremely practical.
7. PHOTO JEWELRY
Lockets have come a long way and while it's still lovely to find a traditional one and pop a pic inside, there are now techier options like the Instagram Photo Jewelry at Antisparkle.
8. UNIQUE PHOTO GIFTS
We remember when it was revolutionary to print a photo on a handbag or a mug, and now you can make so many really innovative photo gifts it's crazy. From the affordable Instagram magnets from Stickygram, to photo coasters, to Cocoagraph's edible photos made of chocolate , the list just keeps growing.  And we keep giving.
[photo at very top via @eastman_kodak_24 on instagram; above photo by @coastermatic]