The photographers in our lives are always trying to capture the fun, inspired, beautiful, worth-a-thousand-words moments. So, this holiday, what do you get the brilliant photographer in your life to let them know you'd like them to keep up the good work? Obviously there are zillion-dollar lenses or that one very specific camera bag — it can help to ask a photographer just what kind of camera we're dealing with here, and what's on the wish list. But as a photographer myself, I've put together 14 of the coolest gifts for photographers that I wouldn't mind receiving, too.
Pro tip: You'll probably want to snap a shot of them opening these gifts.
Custom Camera Locket
We're big fans of Strangely Yours' custom camera necklaces and lockets. And this Wood and Leather Locket one (above) is definitely one of our faves. The tiny creation is modeled after a vintage film camera, with a moveable lens. Even cooler? Remove the lid of the camera to find a small space that can hold an actual photo, a teeny folded note or — ready for this? — two extra SD cards. (Strangely Yours Etsy shop, $55.90)
Magnetic Gold Photo Frames
Go for throwback style with a golden twist with this set of six gilded frames for your square prints and Instagram favorites. The flash of gold adds a little something special to the old-school instant photo look of 3.5-inch pics. And the magnet on the back means your fridge is about to become your modern photo gallery. (CB2, $18.95)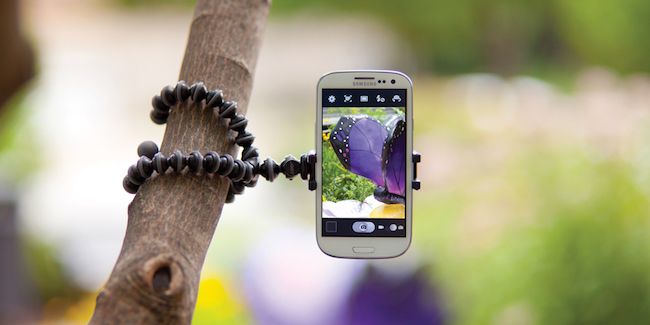 GripTight GorillaPod Stand
With its adjustable grip, this cool tripod is a huge favorite of smartphone photographers. It fits phones of all kinds, and the rubber grip pads mean your device is safe and secure whether you're stabilizing it on a tree branch, a railing, or the dog. (Just kidding, not the dog.) The quick-release clip does away with all the fiddling, so setup and breakdown only take seconds, and then you're off to grab another fantastic shot elsewhere. (Joby, $29.95)
A Visual Compendium of Cameras print
Get a visual history of photography with this 18×24-inch illustrated print that catalogs 100 landmark cameras. Seeing how cameras have developed and changed — from the first Kodak in 1888 to the very digital and different GoPro Hero 3 — is utterly fascinating. (Pop Chart Lab, $29)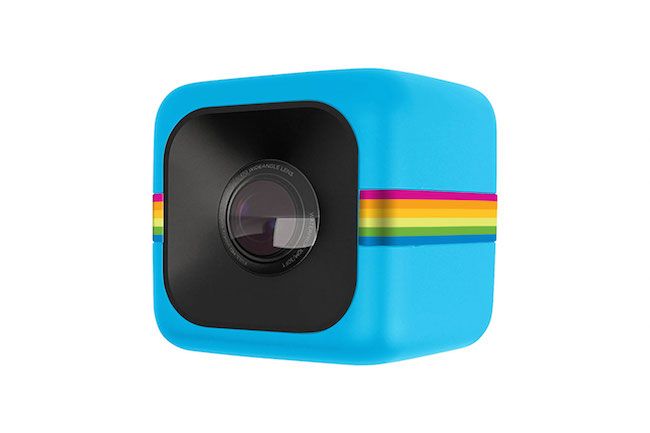 Polaroid Cube Camera
It can shoot quality 6 megapixel photos and 1080p HD video — at the same time. Plus, just look at it: So darn cute. The Polaroid Cube is also shock-proof, water-resistant, and comes with a built-in magnet that mounts the tiny camera to any metal surface. Add the super wide angle (124 degrees) to the mix, and this is one great package with a rainbow stripe. Really fun option for a serious photographer who wants a cool new toy to play with — or someone who just wants a cool new toy. (Photojojo, $99.99)
Related: 5 fantastic gift ideas for your favorite digital photos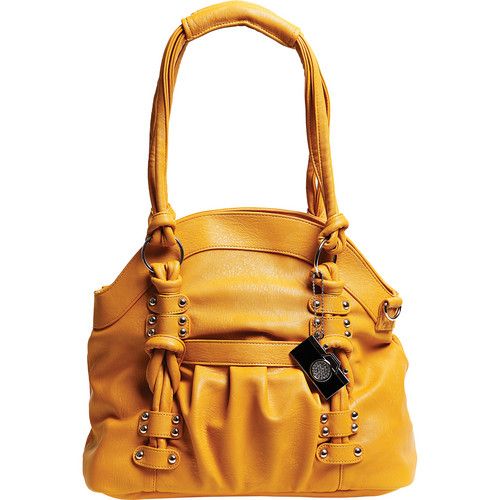 Epiphanie Camera Bag
We've been fans of these ultra-stylish camera bags going way back, and so are our readers, for good reason. They don't look anything like camera bags which is smart for both style and safety. The LOLA in mustard (above) is a workhorse; it can hold your camera body with lens attached, two extra lenses, flash, and battery pack, plus your wallet, sunglasses, lipstick, and more. The two exterior pockets come in handy for easy access to your business cards and smartphone. There are plenty fab camera bag styles to choose from in Cool Mom Picks' indie shop, though this one is a classic. (Epiphanie Bags, LOLA Mustard, $165)
ONA Sahel Camera Strap
The concept behind the stylish leather strap falls right in line with the reason for the holiday season: Giving. ONA has partnered with nonprofit charity: water to help raise awareness and funds to get clean, safe drinking water to people around the world who need it most. And $30 from the sale of each Sahel camera strap helps support the cause. (ONA, $99.99)
Photography Tee from Ice Cream Tees
These fun shirts from Etsy shop Ice Cream Tees are a great gift for the photographer — budding or pro — who likes to wear his passion for the art on his sleeve. Or poke a little fun at our selfie-obsessed (it's true) world with the This Is My Selfie Shirt. (Ice Cream Tees on Etsy, starting at $14.99)
4-in-1 Olloclip Lens
Newly redesigned for the iPhone 6 and 6 Plus, the pocket-sized Olloclip lens system is way cool. The 4 advanced-optic lens options include fisheye, wide-angle, 10x macro, and 15x macro, and Olloclip works with both front and rear-facing cameras. Also check out the other lens systems for iPhone 5/5s and Samsung Galaxy S5, and the Olloclip-compatible iPhone 5/5s cases. (Olloclip, $79.99)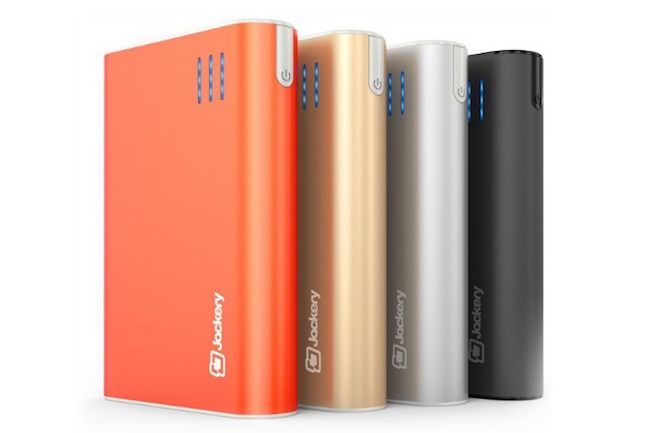 Jackery Giant+ Premium Portable Charger
Getting caught out there with a dead or dying camera battery is never good. So give your photog friend the gift of reassurance — and reliable backup juice — with this super neat  premium portable charger. The two USB ports let you charge two devices at once. Best part about the Jackery Giant+ is its go-Greased-Lightning speed. Plus, the choice of fun colors and the affordable price score this charger some niiice points, too. (Our affiliate Amazon, $39.95)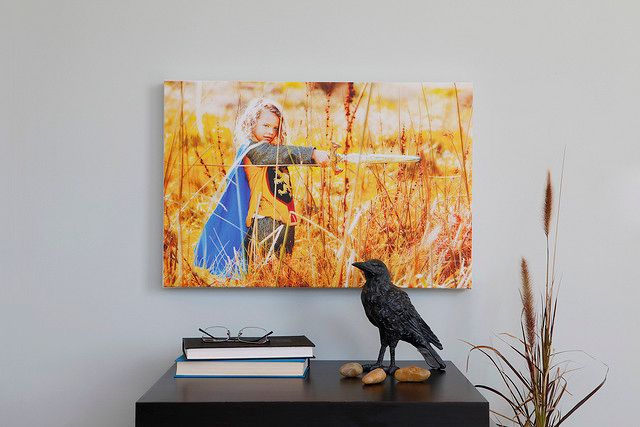 Custom Canvas Print from a favorite photo
Shutterbugs always have tons of images they hope to print out… someday. Help them out by having a favorite shot made into a wall-sized, custom canvas print from a service like CanvasPop. One beautiful option is CanvasPop (above), which works with any print at any resolution — including direct upload from Instagram or Facebook.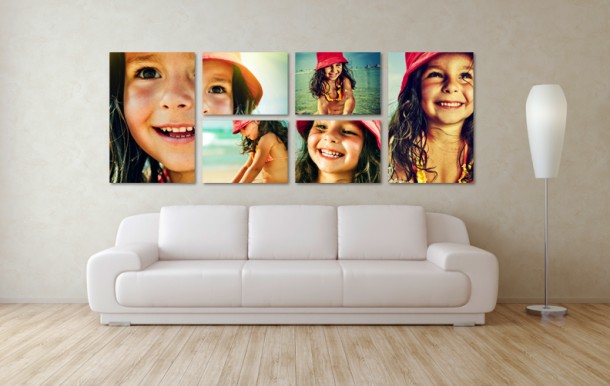 There's also Picaboo, which allows you to get a little creative and make a cool photo collage with a mix of canvases. Also, check out other fun CMT-approved ideas for printing digital pics.  (CanvasPop prices start at $35 for a 12×12 rolled print; Picaboo prices start at $79.99 for a 15×10 canvas.)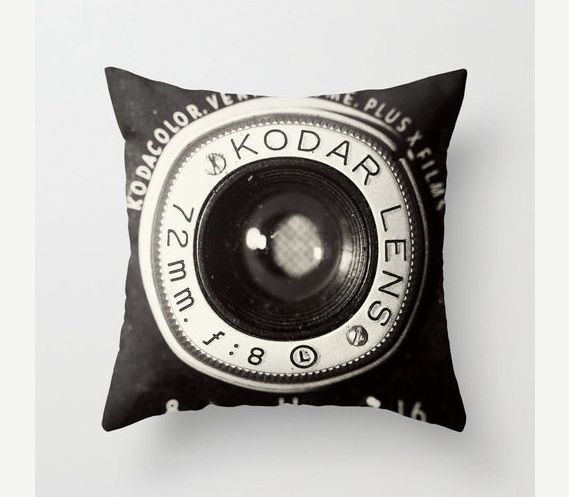 Vintage Camera Pillowcase
The black and white handmade throw pillow is a throwback to the stellar cameras of yore. It's a stylish addition to any photographer's home, office or studio. This cushy pillow is a definite conversation starter, as are these other pillows that we featured earlier this year that are fashioned as vintage camera tributes.  (On holiday sale at Maybe Sparrow's Place on Etsy, $28)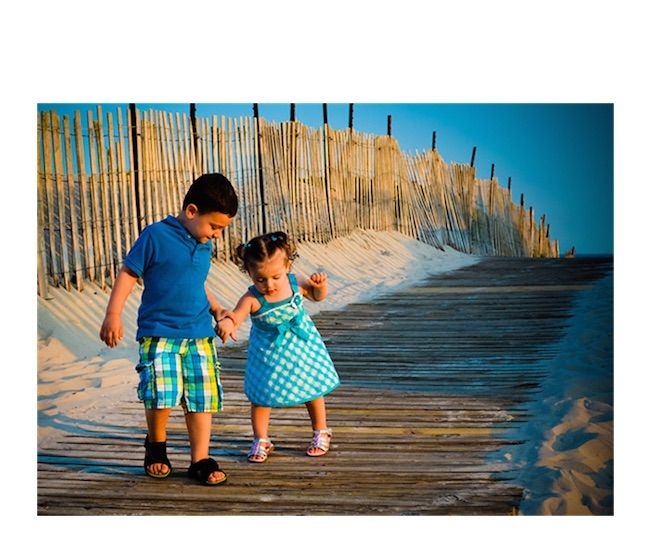 Nikon School dSLR Classes
For a really special gift that keeps on giving, choose from a variety of interactive classes across the US that are designed for photographers of all levels. The eight classes focus on specific styles and techniques, with topics ranging from Elements of Photography for beginners and a single Mom's Night Out class, focusing on family photos. There's also more technical instruction on topics like Creative Lighting and mastering HD-SLR video. (Nikon School, from $49.95 for Mom's Night Out to $599 for 2-day video class)
Leica X
For the photog who's been really good all year long, there's the Leica X. It's a big splurge as one of the priciest cameras out there, but it's oh-so excellent. Small, gorgeous and powerful, this camera produces high-quality, brilliant images. Its simple-looking, old-school design and exceptional 100-year history put the Leica camera in a class all its own. The second a photobug sees that classic red and white script logo? You'll know you nailed the gift. (Leica authorized dealer, $2,295)
For more cool gifts for photographers, be sure to check out the Cool Mom Tech archives. Happy holidays!