Let's hear it for organizational apps this time of year! What would we ever do without them? After all, back to school also means getting back to routines, which can highlight some of our old systems for staying organized and keeping the family running like a well-oiled machine may need some serious updating — or, in some cases, a total overhaul.
So we're thrilled to launch our 2015 Back to School Tech Guide with some fantastic, tried-and-true apps to help you get the family's routine in gear. Here are 16 of what we think are the best organizational apps for parents to help you tackle that mechanical bull like a pro. You can do it!
Related: 10 of the best organizational apps for parents: Our 2014 picks
For juggling multiple family calendars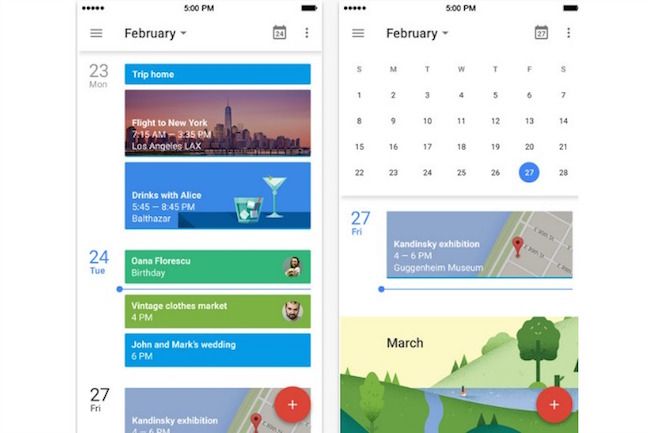 1. Google Calendar app
If you're deep in to all things Google — Gmail, maps, events, and on — you'll want to find you're way to this nifty, free,  calendar app. It syncs up to all your Google faves. There's a new Schedule View that lets you quickly see your schedule using photos and maps of the places you're going. The one small grumble is that an iPad version of the app still isn't available. Something we hope to see change soon. (Free on iTunes and Google Play.)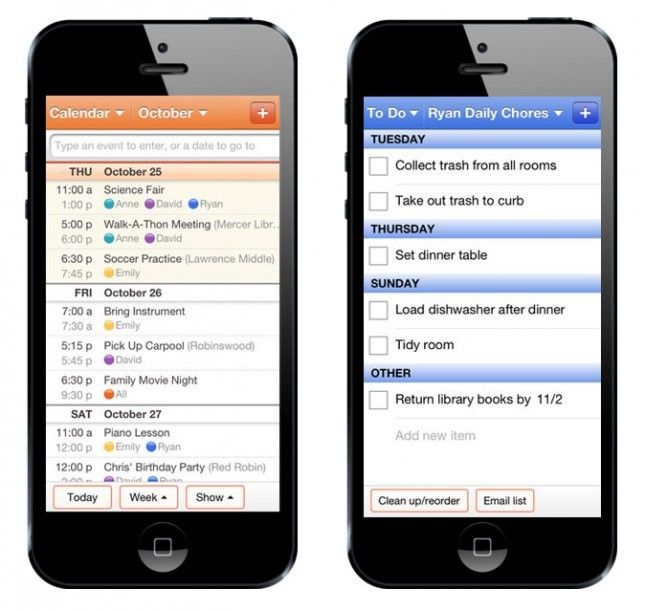 2. Cozi app:
The interface on this app may be a little plain, but when you see all that Cozi can do to help manage your busy household, you'll know why this is a strong recommendation of ours every year, and one of our favorite apps if you have both an Android and an iOS home. Manage family calendars, set reminders, color-code schedules, prep grocery shopping lists even when you're offline. It really is one of the best organizational apps out there, with so many families singing its praises. (Free on iTunes and Google Play.)
3. Moleskine Timepage app:
A nice combination of a weather app, maps, iOS contacts, and your native calendar, Moleskine Timepage syncs up across Google, iCloud and Exchange. It's a smart, stylish, minimalist calendar app for the iPhone and Apple Watch set. Although the continuous timeline calendar view is clean and easy on the eyes, some parents may miss the lack of a monthly view to plan ahead. Even so, we really like this one, even if we're still debating the "correct' way to pronounce Moleskine. ($4.99 on iTunes )
Related: 15 IFTTT recipes to make parents' lives easier
For communicating and coordinating with classes, teams, and groups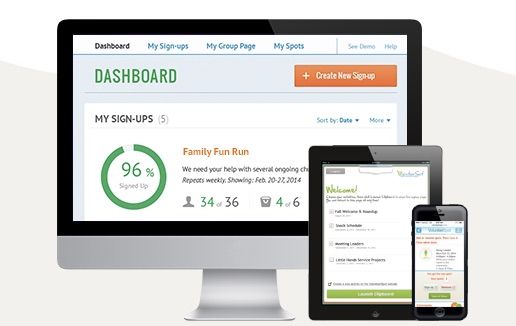 4.  VolunteerSpot app
If you've ever stepped up to be the classroom parent or assistant soccer coach, then you already know that wrangling volunteers is a lot work. The VolunteerSpot app is here to help. It keeps track of your all the volunteers, scheduling, and overall organization activities online — consolidated in one neat place. No email chains, no paper trails, no phone calls, and no fees, just easy access to sign-up sheets online without downloading anything or creating an account (Available on iTunes and Google Play for $1.99.)
Related: Be an organized parent and classroom volunteer with 9 helpful apps and websites
5. TeamSnap app
Hey, you coaches and team parents, take a knee. It's time to kick those clipboard to the curb and mover over to this super helpful app. We called this one "the mother of all sports teams apps" because with the TeamSnapp app, coaches can get in touch with the whole team about important updates via group message with a touch of a button. You can also keep track of the roster and even collect team fees right there on your phone. Now, as for getting the W on game day? That's all you, coach. Clear eyes, full hearts, can't lose. (Free download on iTunes and Google Play.)
6. Glympse app
Picture it: You're carpooling the kid's basketball team and get stuck in deep traffic. NBD. Just stress and yelling and freaking out, right? Uh, no. Instead, download the Glympse app, which helps you share your current GPS location in real time with specific friends, family, fellow teammates and coaches. It lets them know that you're on the way or running late, with no texting or calls to distract your driving focus. You're feeling de-stressed already, right? (Free download on iTunes and Google Play.)
For remembering to do those things you always forget to do
7. Wunderlist app:
Question: If we didn't have To-Do lists would anything ever actually get done? Wunderlist app is making sure we never have to find out the answer. With this easy app, you can create your to-do lists, share them with family and friends, and set up your reminders, so you can finally stop forgetting that thing you always somehow forget. Loaf of bread, a container of milk and a stick of butter. Plus, Wunderlist works seamlessly across all your devices — like, seriously, all of them from Android Tablets to Windows 8 . (Free version available on iTunes and Google Play.)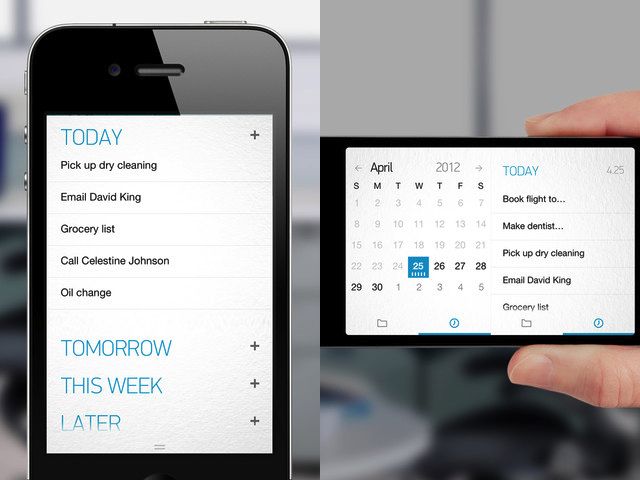 8. Any.do app:
In addition to its nice and sleek interface, it's Any.do app's super easy drag-and-drop capabilities that really sets it on the top shelf of To-Do apps. The swipe to complete feature was a cool plus, and made me feel like I was kickin' it old school and actually crossing off a task or appointment from my paper list.  The voice entry, location-based reminders, collaborative lists, and being able to update to-do items (like a grocery list) in real time scored even more points with me, pushing Any.do onto my faves list. (Free download on Google Play and iTunes.)
Related: Help form new habits with Habit List app
For taking the ugh out of lunch-packing and dinner- making routines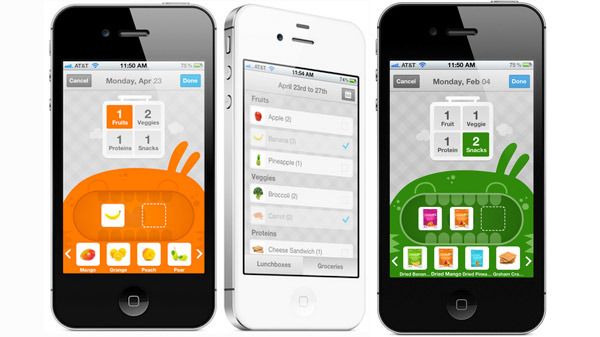 9. LaLa Lunchbox app
We looked and looked and still haven't been able to find any mealtime organizational app quite like it. LaLa Lunchbox app makes meal-planning fun and gets your kids involved in the process, letting them select foods for their lunch using kooky monsters, colorful designs and sounds. Now if only there were an extra feature that had, say, Idris Elba's voice whispering sweet, secret recipes to us to make this app truly epic. But hey, we'll take it just as it is. Plus, it's free! (Free download for iOS on iTunes.)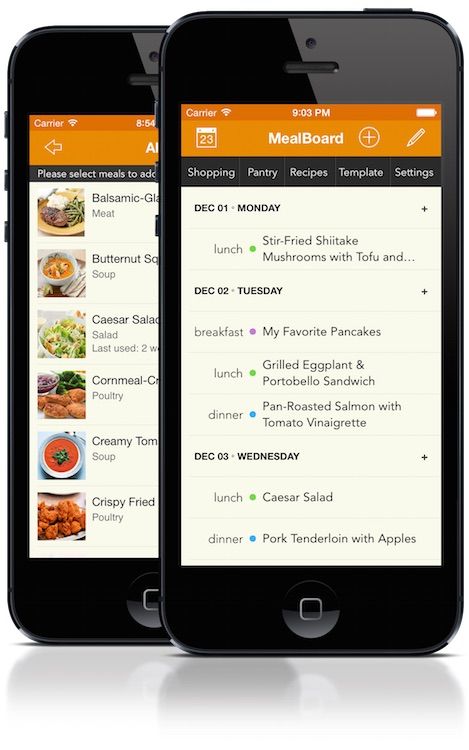 10. MealBoard app
Packing school lunches is one thing. Figuring out what to make for dinner every night is a whole other bag of chips. Or ramen. Or sous-vide steak. MealBoard app helps to take the guesswork and stress out of meal planning by provided a customizable space to store recipes, create meal plans, pull together grocery lists, and keep track of what you have in your fridge and pantry. No more D'oh — I'm fresh out of parsley! moments in the midst of making a meal. Plus, the easy-to-navigate app syncs between devices and also has a nifty barcode scanner feature so you can input food items in a snap. (On iTunes for $3.99.)
For keeping track of the family budget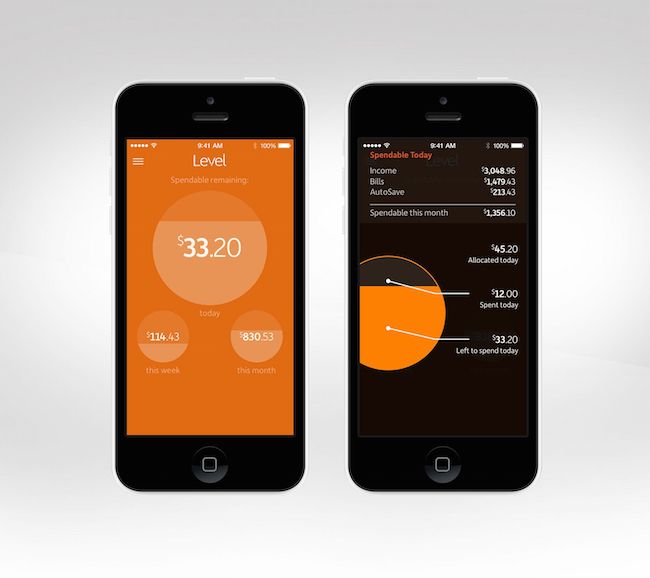 11. Level Money app
Most money management apps are, well, pretty poor: time-consuming, filled with annoying bugs, confusing navigation, most important, lots of them don't work with irregular incomes like so many of us have these days. Level Money app, on the other hand, is a total standout. Although it's not as comprehensive as the very popular Mint app,  Level Money is easy to use, has a clean, smart design, and —  thanks to a major update this summer — factors in folks with unpredictable monthly incomes (hello, Freelance Nation!).
The app acts like a savvy, pocket accountant, tracking your monthly income, bills, savings, bank history, and monitoring your spending across all accounts in real-time; then crunches the numbers to gives you a "Spendable," or how much money you can spend each day on those after-school ice creams or take-out pizza to stay on budget. (Free download on iTunes and Google Play.)
Related: Great money management apps we love
12. Spendee app:
Another budgeting app that is easy to navigate and nicely designed, Spendee app is all about helping you "see where you money goes." It tracks your expenses with real-time sync, and lets you create wallets for different purposes,  like a shared account for your kid who's away at college, and track all transactions for each member of that shared wallet. Plus, you can easily filter transactions into categories to pinned them to a location, so you can see where you are dropping the most dough each month. (Free download on iTunes and Google Play.)
For preserving all that classroom artwork
13. Artkive app
We could fill several vaults with the colorful, creative pieces of artwork that comes home from school with our kids. But — real talk — who has that kind of space? Especially when there's feathers and glitter and pasta shapes stuck to a 3-D papier maché rendering of Jupiter.  Artkive app has helped parents kick the artwork clutter habit for the last several years, by storing pics of all their artsy wares in the app's cloud. We've been big fans for the three years it's been around, and it's had lots of great upgrades since we first reviewed it.
Now the latest Artikive 3.0 brings with it a redesign and some new features, a bulk upload for up to 15 pics at a time, image tags so you can easily identify different artwork from multiple kids, and new photo editing options. Plus, now you can share some of your kids' masterpieces to Facebook and Twitter and there's always those awesome photo books they offer, which save you a load of time on the back end. (Available on iTunes for $4.99 and on Google Play for free.)
*
Artkive has generously offered a $10 book credit for new users. Just sign up for a new account before

9/30/15

and forward the welcome email to help@artkiveapp.com. You have until 11/25/15 to use it but it can't be combined with other offers.
For fun and overall mental health
14. Funny or Die Weather app
Truth is, when we talk about weather, we're usually grumbling about it being hot as the devil's horns or some predicted Snow-verload ™ blowing our way. You kind of need a little chuckle, right? Thankfully, the Funny or Die Weather app lets you wake up and check the temperature with a smile. And it's not just about giggles here; the weather forecasts come from Weather Underground, so it's totally legit. (Free download on iTunes and Google Play.)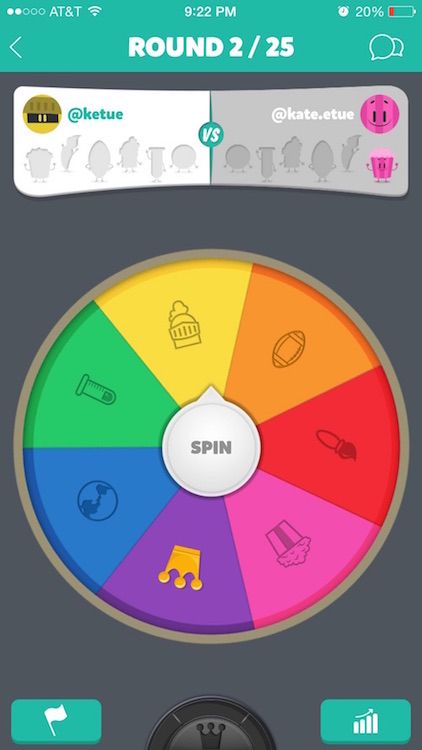 15. Trivia Crack app
Question: What color is young Anna's nightgown in Frozen? Now, if you were up on your Trivia Crack, you would know the answer without even blinking. And, let's face it, this stuff's important! Use your time waiting in the school carpool lane wisely; spin the wheel and test your trivia knowledge in any of the six categories (Science, Entertainment, Art, Geography, Sports, and History). One note: The free version of the app has loads of in-app purchases. spend the $2.99. (Free download on iTunes or Google Play supported by ads; $2.99 on iTunes for ad-free version)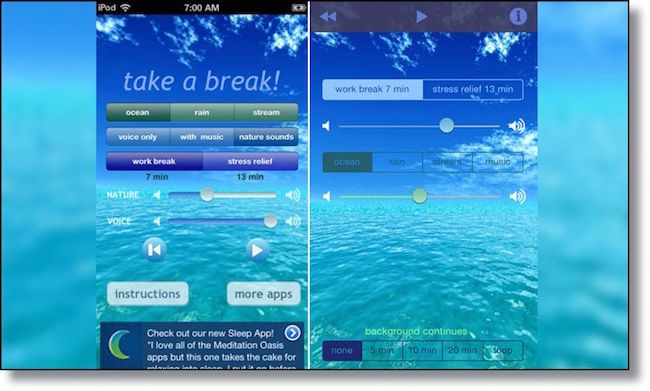 16. Take a Break app
We all could use a few minutes of pause in our busy bee lives to clear our heads, breathe deeply, and (hopefully) restore  a sense of calm. The Take a Break app tells you what's up right there in it's name. You choose from two guided meditations — Work Break or Stress Relief — and zen out for either 7 or 13 minutes as a woman's voice and music (or nature sounds) lull you into a mellower mood. (Free download on iTunes and Google Play.)